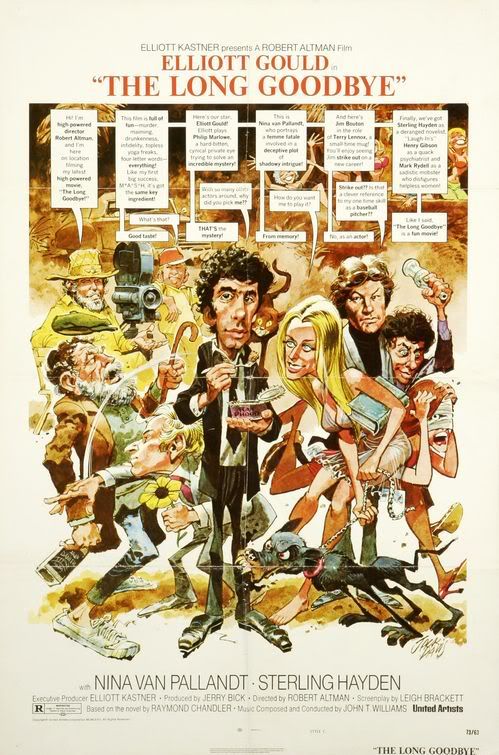 The Long Goodbye
and
The Gingerbread Man
were my recent viewings. Both are thrillers or mysteries of some sort or another by Robert Altman.
The Long Goodbye
is one of my favorite movies.
To sidetrack. When I started working with Amber, my D.P. on
Lakeside
, I showed her
The Wicker Man
and
Halloween
along with
Black Sabbath
and
Suspiria
to establish the kinds of looks I wanted to achieve. If I get a chance to shoot the thriller I'm writing now, it will almost positively, along with
Point Blank
, be one side of the example equation I offer for how it should look.
Taking only the skeleton of
The Long Goodbye
, Chandler's penultimate novel, Altman and company manage a feat of criticizing the Philip Marlowe character as well as the 1970s and still making a fascinating movie about intriguing three-dimensional characters. And as much as I can say about the movie, the acting and Leigh Brackett's screenplay, I think my highest praise would be for the amazing cinematography by Vilmos Zsigmond that at once evokes a kind of mythic Hollywood and the reality all around us.
It wouldn't take much to create a truly fascinating compare and contrast between that movie and its more recent cousin. I won't get that far, however. One day, I might find the time to write a comparison between the Elliot Gould Marlowe and the Robin Williams Popeye from Altman's
Popeye
, though. Better yet, how about everyone simply rents that double-feature and see the two men, both lost in a world they don't understand as they overcompensate with wisecracks they mutter to more to themselves than even to the audience.
The Gingerbread Man
takes a story that John Grisham apparently wrote as a movie pitch. The word out there is that it deviated enough that Grisham tried to disown it. I'd be curious to know what changes were made, since the characters and situations reek of Grisham.
Mind you, the characters, as realized by the likes of Kenneth Branaugh, Robert Duvall and Embeth Davidtz, feel richer than any previous Grisham experience I've had. The world feels more real, more fully realized and honest. It's also genuinely harsh and terrifying in places, giving a kind of clue what a full-on horror movie by Altman would be like... Not surprisingly, the answer is "Very good, at its worst."
Unfortunately, as a whole, the painful, obvious but convoluted Grisham twists keep me from being able to recommend this as wholeheartedly as something like
The Long Goodbye
and somehow at the end of reviewing the lesser movies of great moviemakers, I always say something like that... Yes, this movie is not as good as one of my favorite movies of all time and, yes, somehow, because of that feels like a disappointment.