I got an email from
Video Universe
, informing that the unrated version of
The Perils of Gwendoline in the Land of the Yik Yak
was being released tomorrow.
I've seen this movie, in its 88 minute US version, three or four times over the years, although probably not in at least a decade. It's based on the comic strip
The Adventures of Sweet Gwendoline
by John Willie and stars the infamous Tawny Kitaen, of Whitesnake video fame.
The movie itself is kind of an S&M version
Raiders of the Lost Ark
, albeit, as I recall, without the smarts and are to detail.
Looking at it, I notice that it's indeed 106 minutes. That's nearly 20 minutes more material. Not to mention being in the original French, rather than cheaply dubbed. I'm definitely getting this off the Netflix.
If I were buying it, however, this right here would bug me -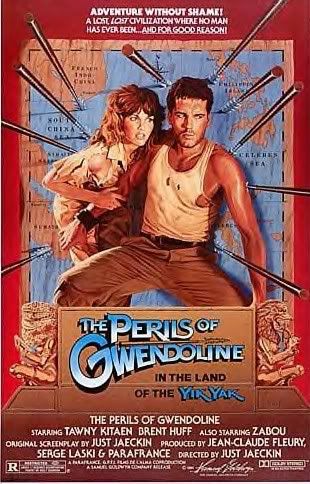 The cover art on the left is much better, but represents the 88 minute US version that doesn't include a commentary. The cover art on the right is just damn cheap looking and yet represents the better package on disk.
I guess this is a reason to feel better that I don't have the money to have this be a problem. My Netflix envelope will look essentially the saw either way.