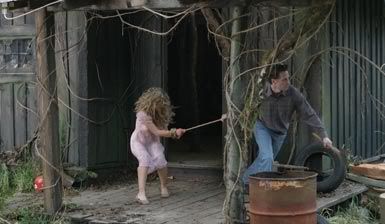 Do You Like Hitchcock?
and
Jenifer
are being released on DVD this coming Tuesday. I've seen "Jenifer", Dario Argento's segment of
Masters of Horror
already. In fact, of those I've seen, it's solidly my favorite episode (check my review from the time
here
).
This news has also come out in regard to his next feature,
Mother of Tears news
. Asia Argento, his lovely daughter, is not only starring, but also Daria Nicolodi, who was his longtime lover/partner and who co-wrote the first two movies in the thematic series being completed here (it begins with
Suspiria
and
Inferno
).
One of these days I'd like to do a primer on Italian horror, since I'm occasionally asked what to recommend by those who haven't experienced much of it.
(Mind you, I'd like to do one on Italian action movies, as well, but we'll see if I get around to either.)
I used to be sure that
Deep Red
was the best introduction to Argento, it being my personal favorite. Having tried it a couple of times, I no longer do. Perhaps the slightly more popular
Suspiria
is better, although I'm currently considering starting with "Jenifer".
Mind you, the best introduction director is probably actually
Mario Bava
, which is part of the reason why the results of this will likely be sometime in the future.