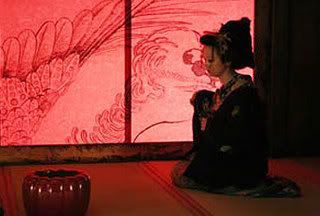 For those of you who don't know,
Showtime
declined to show
Imprint
by Takashi Miike along with the rest of the first season of
Masters of Horror
. For months now there's been a debate as to exactly what caused them to take this action. Is it really that horrible? Is it the torture? Is it the dead fetuses?
They knew the content. They knew it was Miike. The intrigue has surrounded what could make it more than what one might have expected from that combination.
My honest take. I think they pulled it in part because it's not that good.
No, it's not the worst episode I've seen and two I've not seen are not fan favorites, by any stretch.
But it's also not the one that made me squirm the most either.
That's the only thing that should have taken them by surprise.
My guess is that it wasn't completely that they did think it would generate controversy, it was that they didn't want to be forced to defend something that awkward when it came down to a controversy.
Sadly, if my guess is right, they are likely more to blame than anyone.
The biggest problem in the movie is the acting. I suspect this wouldn't have nearly as awkward in Japanese. Asking a non-English speaking director to get a group of mostly non-English speaking actors to give good performances is unrealistic. I can't believe it wasn't Showtime that insisted on having it performed in English.
It's a visually arresting bit of filmmaking and there are some interesting ideas hiding within it. Unfortunately, I don't think any of them are as developed as they would seem to deserve. I'd be curious which of them are developed in the novel it's based on, "Bokkee kyôtee" by Shimako Iwai.
For whatever it's worth,
Anchor Bay
has made an excellent DVD package. Although it disappointingly lacks the usual "Working with a Master" documentary, it does have three documentaries, including "I am the Director of Love and Freedom", an entertaining and insightful look at Miike as a man and filmmaker. It also has a very honest and insightful commentary by
Chris D.
and Wyatt Doyle, including a reference to
Frank Henenlotter
that I can't believe I haven't heard anywhere else.
As it stands, I found it disappointing to watch. I'll also acknowledge that I haven't stopped thinking about it.
I wouldn't recommend it as a first dip into Miike's work, but there's much for fans to find... of course, fans don't much need my recommendation, do they?