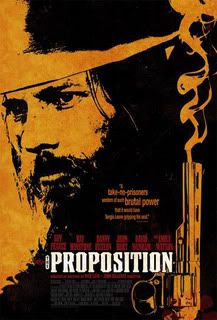 I wrote, earlier this year, "
The Three Burials of Melquiades Estrada
is the best goddamn movie of 2005."
For many of the same reasons I expect to finish the year saying
The Proposition
is the best goddamn movie of 2006.
Both movies have been compared favorably to
Sam Peckinpah
and
Sergio Leone
. It's a fairly simple comparison to make. It seems anything that evokes the Western genre without specifically harking back to the general perception of what the Western was prior to 1967, such as
Silverado
, get that generic and rather lazy comparison.
In the case of both of these recent films, I can't help wonder if the critics involved have ever really paid attention to Leone's films at all. I can think of little cinematically or thematically in common between
The Proposition
and Leone's work. I think a reasonable comparison could be made with Leone's contemporary,
Sergio Corbucci
, but that would require that critics to not only have a cinematic vocabulary, but also to genuinely inform their readers.
The Peckinpah comparison is apt, however. Specifically,
The Proposition
reminds me of
Bring Me the Head of Alfredo Garcia
. Both movies are unflinchingly violent, but both are also more about the aftermath of violence than the violence itself. The violence harms, haunts, and destroys not only victims and perpetrators but all who bear witness or are even held
I don't suppose it should be necessary to note in a film featuring Guy Pearce, Ray Winstone, Danny Huston, Emily Watson and John Hurt is tremendously acted, although I do want to say that I'd be astonished to see a better performance by supporting actress than Emily Watson gives here, even less five, so I'd certainly hope she gets a nomination. I could certainly vote for nearly anyone else in the cast, however, in their appropriate category.
As I said, I don't expect to see a better movie this year. I'll live with it longer, but its beautiful. It may go somewhere in my all-time favorites list.