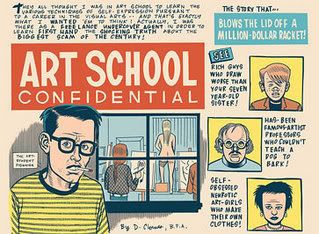 I don't think
Art School Confidential
could have been worse if it had been made by The Devil himself with the express purpose of ruining my previously pleasant evening.
I very much enjoyed director Terry Zwigoff's
Ghost World
and
Bad Santa
. I've also very much enjoyed the work of
Daniel Clowes
.
This... I don't know. I have
literally
nothing positive to say about it. Not an interesting failure but simply tedious, pointless, self-satisfied, unfunny.
It's certainly not hip or knowing. I could have picked out all of these art stereotypes when I was five, after watching Uncle Arthur on a couple of episodes of
Bewitched
. It's greatest crime is hitting easy targets that have been hit time and again and having nothing new to say except "Ha! Ha! Art types are silly and dumb."
Surely after a lifetime of mediocre television sitcoms you don't need a pretentious art film to tell you that, did you?