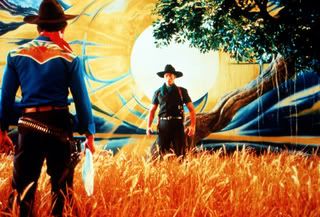 I ate a Southwestern Chicken Salad from
Jack in the Box
as I watched
Tears of the Black Tiger
by Wisit Sasanatieng. It's not a bad combination. They both evoke a strange second or third generation impression of the American Southwest. The important difference is that the salad was just a mediocre but reasonably tasty bit of fast food and the movie is one of the most stunningly original and moving new visions I've seen in a long time.
Imagine, if you will, if
Douglas Sirk
had traveled to Thailand for the purpose of shooting a noir/western. You're now perhaps halfway to understanding what genre this movie belongs in. At once retro in its look and feel while being strikingly modern in its approach.
Most reviews I've seen focus on the style and genre blending like a novelty, which, I believe misses the point completely. Like
Far From Heaven
by Todd Haynes, it's fully committed to using and expanding on the manner that the artifice of old movies held an emotional truth of their own. Realism is merely one tool to connect to emotional reality and, as its extended reign continues, the clearer it becomes that its a pretty poor one at that.
I can sit and compliment so many elements. The wonderfully expressive actors, the delightfully evocative songs that play, the elegantly simple poetry of the story, etc. for the rest of the day, but it's something that ultimately should just be experienced.
The
Wikipedia article on Tears of the Black Tiger
has a lot more information on influences, including many older styles in Thai cinema that I wasn't able to recognize myself.