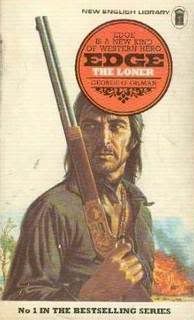 I recently came upon a small group of books from the
Edge
series of western novels by British author
Terry Harknett
, under the name George G. Gilman. This was part of a series of books that developed out of the success the publishers had with novelizations of European westerns, including
Hannie Caulder
by Harknett, under the name William Terry.
The existence of these books makes me terribly happy. It's a reminder of a more literate age. Like Don Pendleton's
Executioner
series, these are books made for lower class and lower middle class men. This is the group that seems to have most clearly have given up reading. The pulp women's novel continues and certainly the more middle class men's novels, such as those by Tom Clancy and Eric Van Lustbader, still exist.
I've read the first novel,
The Loner
. It's charmingly entertaining. Occasionally almost absurd in its violent action. But it's terribly readable. The lead character, Josiah Hedges, a Union captain returning home from the Civil War, who is given the
nom de guerre
Edge as he goes off to avenge the death of his brother.
It would make a very exciting low budget movie. In fact, if I had money, I'd contact Mr. Harkett about purchasing the option. I have some very strong ideas how to interpret it... a British author interpreting the European westerns with obvious nods to more traditional westerns as well.
But I have other things to work on for now. I will continue to read the others I've purchased, and likely the recent
mini-series
Harknett has made available online.