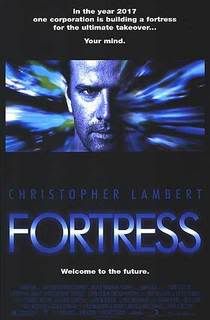 Discussing my love of
Stuart Gordon
put me in the mood to revisit
Fortress
.
From, as I recall, Gordon's
Re-Animator
commentary, but possibly from one of the post film Q&As I've attended, Gordon states that this movie was originally developed as a vehicle for Arnold Schwarzenegger, and it certainly would seem a solid follow-up to
Total Recall
.
I have a general ambivalence about the change to
Christopher Lambert
in the lead. While I suspect that, like
Paul Verhoeven
before him, Gordon may have been capable of bringing more out of Schwarzenegger the actor than most, but I still suspect the performance he gets from Lambert is still more subtle here than Schwarzenegger could have managed. On the other hand, Lambert would move onto a series of similarly themed straight-to-video sci-fi movies, including
Fortress 2: Re-Entry
, that I believe ultimately color this movie in an unfair way.
Not that I think it's a flawless movie. The writing features a lot of good ideas and a strong set-up, but seems to peter as the story resolves. The female lead, played by
Loryn Locklin
, seems inconsistent in her characterization... much of this could be rationalized by the effect of her pregnancy on her physical and emotional state, but there's little in text of the movie, aside from her state itself, to support that.
The credibility throughout is held by the acting, a particularly an especially deft and sensitive performance by
Kurtwood Smith
as the prison warden. Not to mention supporting performances by
Lincoln Kilpatrick
and
Jeffrey Combs
.
Some of the satire is heavy-handed, although not without a knowing quality. I'm left wondering, however, how far the privatization of prisons had gotten at the time this movie was made.
This is a movie I'd definitely like to see get a better DVD, in the correct aspect ratio and perhaps with a commentary by Gordon, who is one of the most entertaining and informative commentators out there.