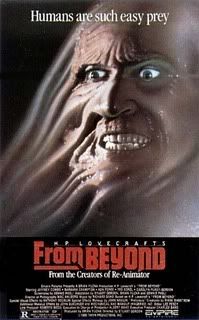 I love
Stuart Gordon
.
Not in a half-assed, I love
Re-Animator
and thus feel an affection for him way.
I enjoy and admire nearly all of his work, including less acclaimed works like
Fortress
and
Space Truckers
.
But until last night, the movie of his it had been the longest since I had seen was
From Beyond
, one of his most acclaimed movies. Not only that, but a movie I remembered quite fondly from my younger days.
I can't say I'm anything but glad to have made the wait. Seeing this newly restored version, as a more adult viewer, I must say this is something of a revelation. It's not a better movie than
Re-Animator
, but I think it is a more mature one.
Gordon and screenwriter Dennis Paoli take the short story,
From Beyond
by H.P. Lovecraft, as a jumping off place for an imaginative story about a psychiatrist who takes a schizophrenic man to recreate the experiments that drove him to his possible madness.
It's certainly not a perfect story. Those involved point out several popular nitpicks on the commentary, most of which made me roll my eyes as serious nitpicks more than they did as plot problems during the proper flow of the movie itself. More than those, I felt that the missing scene that apparently Gordon cut himself prior to the scissors of the MPAA reaching the movie and thus immune from the saving hand of editor Lee Percy is one in which Dr. Edward Pretorius drives a nail into the tongue of a young woman with whom is engaged in a
BDSM
relationship. The mere nature of the relationship may have seemed like it would suggest to an audience of his perversion in 1986, but in 2007, when as
Dan Savage says
, "Bondage is the new oral sex", that extra something might have made the point better.
Atrocious (and misleading) DVD cover art aside, this long anticipated restored DVD release is the answer to the dreams of many horror fans.