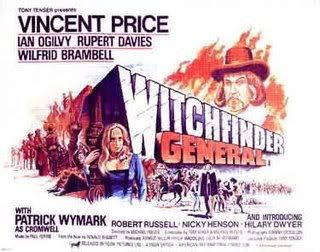 When
AIP
released the movie
Matthew Hopkins: Witchfinder General
in the United States, they changed the title, after the poem
The Conqueror Worm
by Edgar Allan Poe, in order to capitalize on their recent success with the Poe cycle, directed by
Roger Corman
(who should be discussed more as Midnite Madness continues). They also re-edited it. Cut out some of the violence and inserted bookends with star
Vincent Price
reading from the aforementioned poem.
Until recently, all versions of the movie available in the US were based on this altered version rather than the British version, known as
Witchfinder General
and more accurately reflecting the intentions of director
Michael Reeves
.
This week sees the release of a newly restored version that returns it not only to that standard but to Reeves cut prior to cuts made by British censors.
Mind you, it's easy to see why AIP felt unsure of how to market this, it's not so much a horror movie as it is an historical revenger, as
Kim Newman
notes in the accompanying, it's pretty close to being the British equivalent of an American Western, and just happens to be about witch hunts. But, as usual, the false expectations only made it more difficult and time-consuming for it to get the reputation it deserved.
Luckily, this remarkable edition will only solidify that reputation. I agree with
Witchfinder General in Stores Tomorrow
by Tim Lucas, in which he notes that the inclusion of the bookends and added nudity from the "Continental Version" would have been nice to include as extras. The important thing here, however, is that the movie can now be judged for what it is rather than with part of an eye toward what more it might be. Luckily, it is something quite remarkable.
UPDATE: I wrote this prior to listening to the commentary in which producer Philip Waddilove and star
Ian Ogilvy
repeatedly state that making a "British Western" was indeed Reeves explicit intention in making the movie. I will only reiterate that he succeeded marvelously.