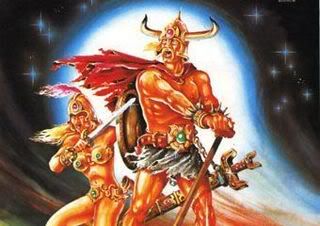 A decent amount of blog space has been going to
The Mario Bava Collection, Volume 2
, and for good reason. There are many excellent movies on there, and word has it that the new transfers on them will amazing.
But then I
have
seen them all, in fact, I've seen four of them in a theater, avoiding some, although not necessarily all, of the failings of the previous DVD editions. But that's not to say I'm not excited, especially in regards to the new commentaries by
Tim Lucas
, which promise to be very interesting.
But I'm terribly excited about the day and date co-release of Bava's
Erik the Conqueror
. The fact that it's widely reputed to be a rip-off of
The Vikings
, which is one of my favorite movies, only makes it all the
more
exciting.