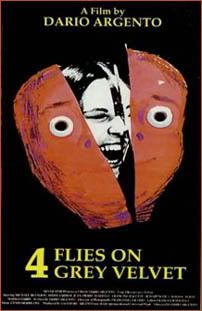 4 Flies on Grey Velvet
is the legendary "lost" movie of
Dario Argento
. The third of the "animal trilogy" of
gialli
, after
The Bird with the Crystal Plumage
and
The Cat O'Nine Tails
.
It's not the actual lost Argento movie. That would be
The Five Days of Milan
, which doesn't even have the benefit of being regularly discussed and fawned over in online movie discussion groups.
Realistically, if it were widely available, it wouldn't take long before the mystique of
4 Flies on Grey Velvet
. Not because it's bad, but it's simply not the kind of movie that would ultimately satisfy a large portion of Argento's fanbase. It relies heavily on that very Italian kind of broad comedy that shows up occasionally in other genre movies, and often to the displeasure of more earnest American horror fans.
I came to the movie with its
soundtrack
already being one of my favorite pieces by the
Ennio Morricone
, which is saying a lot.
And, while I've heard tell of people making it to screening of good looking 35mm prints, I have not been so blessed, making due with a print that looked pretty crummy and sounded even worse.
The movie stars
Michael Brandon
as the drummer in a painfully groovy rock combo. After confronting a man he believes to be following him, he finds himself in the position of accidentally killing him and being photographed in the act by a strangely masked figure.
This brings him to ask the assistance of Godfrey (or "God" - How does that little joke play in Italian?), played by
Bud Spencer
and eventually hire a flamboyantly gay private investigator, played by
Jean-Pierre Marielle
.
Honestly, I'm not even sure what I make of it, goofy comedy, solution that's ridiculous even by
giallo
standards... and yet, somehow the charisma of the leading actor, the creepy smiling masked figure, the painfully groovy score, I can't say I'm not interested to see it again some time under more ideal circumstances and a better opportunity to have lived with it and see what I think...