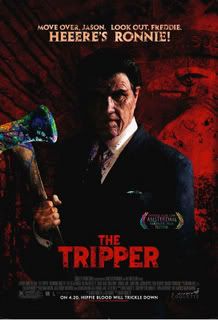 As my suggested Halloween movie choices were
Abbott and Costello Meet Frankenstein
,
Mad Monster Party
and
Young Frankenstein
, it shouldn't be a big surprise that I went with
The Tripper
as my choice.
I don't have a lot to say about the movie as a whole frankly. It wanted to be both satirical and a horror-comedy and doesn't really succeed at either, although it's certainly not without it's amusing points, especially those involving
Thomas Jane
and
Paul Reubens
.
Watching it, however, a movie rule occurred to me: If side characters step out somewhere between a quarter and a third of the way through the movie, prominently being naked partly for the sake of their nakedness, it means you will
never
see any of the leads naked.
I thought of this rule somewhere around a quarter or a third of the way through
The Tripper
and in one scene does come
this close
to being an exception to the rule, but I'm pretty sure never actually creeps over the line.