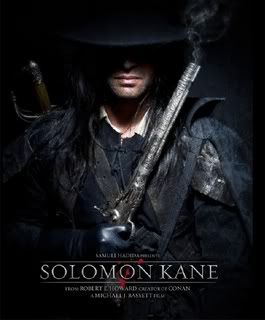 I love
Robert E. Howard
, and I
especially
love the
Solomon Kane
stories.
As it goes, my ears can't help perk up when I read, in
The First Poster for Solomon Kane
by Jessica Barnes, that the long in-development movie version has preceded past casting and into a teaser poster. Of course, it's a teaser, so little can be gathered from the poster itself which is... fine... I guess. It's a little slick and corporate, but I'm not surprised by that at all.
I'm noting that the director is
Michael J. Bassett
, whose previous work,
Deathwatch
and
Wilderness
, I have yet to see. For whatever it's worth,
Netflix
predicts I will like them quite well... significantly more than most. I'll have to check them out.
I'll be curious to see how, regardless of everything else, they manage the character of N'Longa the witch doctor. It's frankly almost the trap of adaptation. He's a horrible racial stereotype and yet also easily the most likeable character in the stories. Both failing to update and failing to capture the character would be a significant disappointment to many.
For those who have no idea what I'm talking about, go pick up
The Savage Tales of Solomon Kane
and enjoy!