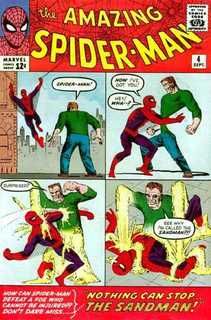 After a lot of love it or hate it buzz around the world, I had neither feeling for
Spider-Man 3
. It was mostly rather dull and content to repeat emotional beats that had already been done better in the first two movies.
Mind you, the origin of
Venom
was lame. Not lame in way like
Beyonder
and all that crap that geeks hate trying to explain to non-geeks, because, well, it's really lame and the fact that we even know about it makes us just a little lamer. This is more of a lazy, "We don't care about any of this, so let's just get it over with." kind of way.
Which is basically how most of the movie felt to me.
The segment in which Peter Parker grows infected by the symbiote rises above that spirit briefly.
This was the first of these movies in which
James Franco
didn't feel horribly miscast. Unfortunately the part he was given is erratic and filled with shifting and unclear character arcs, leaving it a bit of a lost cause.
He's one of the two I felt bad for while watching the movie.
The other was Spider-Man co-creator
Steve Ditko
.
I'm sure if he saw it, the sequence with his
Sandman
asking for Spider-Man's forgiveness and... Well, the point is, it wasn't a scene I'm guessing that the creator of
Mr. A
would have cared a bit for.
But then he may or may not be even more peeved that he's not getting a check for a movie about his co-creation for which others are getting millions. I know that doesn't sit right by me, but in Hollywood and at
Marvel Comics
, as in too much of America, it's not about what you
should
owe someone, it's about what you have to acknowledge you owe someone.
May I recommend any of you who aren't already inclined to check Tim Lucas's blog before mine, as I myself certainly would, if I weren't privy to my blogs as they're written, check out
An Open Letter to Steve Ditko on His 80th Birthday
. It's a much better tribute than I could offer and one that couldn't be more deserved.