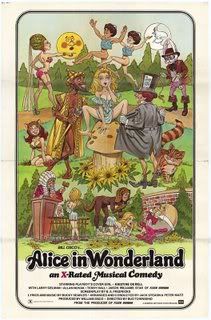 Subversive Cinema
has put out a new DVD of
Alice in Wonderland
. I made a brief reference to the movie in my recent article
Legitimate and porn
.
I had previously seen the "R" rated VHS version and recall finding it remarkably charming and amusing, so I've occasionally pursued opportunities to see the "X" rated version, which have not worked out until now.
Directed by Bud Townsend, who directed, among other things,
The Beach Girls
and produced by Bill Osco, who produced, among other things,
Flesh Gordon
, I must say the movie is indeed quite charming. A substantial part of that charm, as nearly everyone who has written of it prior to me, is due to the casting of the lovely
Kristine DeBell
, who brings a natural charisma and genuinely innocent quality to her performance as Alice.
Somewhere in the movie is hiding the possibility of something much better than what is ultimately onscreen. I can't agree with Drew Fitzpatrick's assessment, in
Happy Birthday, Kristine DeBell!
, that it's "heroically unfunny" or "unwatchable".
Perhaps, having previously endured other Osco efforts, from
Flesh Gordon
to
Night Patrol
, I guess this one featured so much less of the bad puns and broad winking at the audience playing of gags that I hardly noticed. In fact, what struck me was the rather breezy, light-hearted musical that glides us through the story... and, yes, occasionally smack into characters who go into heavy-handed bits of bad puns and camera mugging.
Or then maybe it's just that the world created by
Lewis Carroll
already has enough of that broad comedy that it seems rather natural.
The question going for me, however, was how well the hardcore footage worked or how much was necessary.
I suspect there's a balance between the two versions on the current DVD that would actually work better than either of them. I would certainly keep the scenes of Alice and her hardcore action in tact. The "humorous" censoring of these in the non-hardcore version simply induce further eye-rolling for me. Not to mention, each of them actually do contain character development and acting.
Although there is a moment in which it's clear that the actors switch... In the scene, the stunt penis that is inserted in the stunt vagina is probably
twice
the size of the actor's penis which, a couple of shots before, had been seen being placed in the lovely Miss DeBell's mouth. I'd probably, for that reason alone, cut those vaginal insertion shots.
(While I'm on the always popular subject of penis size, I don't think the either the flaccid penis of actor Alan Novak or the erect penis of the
Mad Hatter
that Miss DeBell fellates - which the editing suggests is another stunt penis - reaches the 9 7/8" advertised on his hat.)
The various other hardcore scenes, such as the frolicking of Tweedledum and Tweedledee, do indeed extend past their welcome within the context of a movie with a story, but I think benefit the overall arc enough to be worth keeping in some form.
I also think the songs, by screenwriter Bucky Searles, are reasonably strong overall. A couple of dull numbers, but generally surprisingly good for written for low-budget comedy songs, even less
porn songs
!
Here's where, if I did this for a living, I'd have to wrap this up in some conclusive manner that suggested to you whether you should personally make the effort or not, or how worthwhile I found the movie overall. I'm not sure I have any of those answers, for you or me. I know I was glad to watch it, and suspect I'll watch it again someday. Maybe when my memories have faded again to nothing more specific than a generally pleasant feeling with no details...