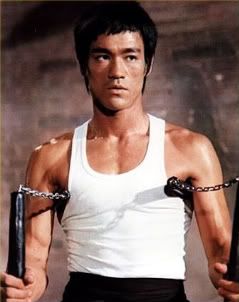 Of all subjects I've intended to brooch,
Bruce Lee
is oddly more difficult than most.
Part of the problem with giving any sort of critical view of any of his works is his posthumous deification.
Look at something like
Bruce Lee: A Warrior's Journey
. This movie seems intended to be a legitimate documentary, but its slavish need to give Bruce Lee every possible credit while offering next to no criticism shows it to be the same kind of sycophantic nonsense we've been seeing for 30 years.
In order to boost Lee's credits for the incomplete
Game of Death
, they credit him as having worked as both
cinematographer
as well as being "in charge of the lights". Mind you, these two roles
can be
separated and occasionally are, but it is standard for both to fall under the purview of one person. Not to mention, this is the only reference I've heard of where it's suggested that Lee took on that (those) role(s) wholly and not simply held them under his control and interest as a standard aspect of his role as director of said movie.
Not that I intend to dismiss Lee's dedication or skill. Certainly not in the way the makers dismiss the accomplishments of
Wang Yu
, whose role as star/director/writer of
The Chinese Boxer
precedes Lee's accomplishment of the same with
Way of the Dragon
by a good couple of years, although I acknowledge that Lee did add the role of action choreographer to his roster of talents.
It also rather casually and goofily dismisses the
Wuxia
movies, seemingly out of hand, which seems all the more bizarre in a world where movies like
Crouching Tiger, Hidden Dragon
and
Hero
have legitimized the style in the eyes of most movie fans.
More than that, I don't think Lee himself would have agreed. One of the interview clips shown in the movie seems to suggest that he saw himself as part of the community of filmmakers working in Hong Kong and trying to improve it. He seems in no way to be casually dismissing the works of others.
I'm certainly not suggesting that Lee's work didn't take Hong Kong cinema and martial arts cinema forward in many significant ways. I just think the view that it was a quantum leap rather than simply a significant part of an ongoing process that had moved forward significantly before
The Big Boss
, and it would seem in many ways, the specific progress made by his work was largely buried under piles of
Bruceploitation
for some time after his death.
Much of this would stand out less, however, if the footage of
Game of Death
didn't reveal it to seem rather a dull and pedantic work.
Way of the Dragon
, the only actual Lee movie I love unreservedly, seems such a leap forward from the movies that preceded it, to my view, that I can't help be disappointed at the possibility that he'd step backward so far. Even
Circle of Iron
, reworked from a very early screenplay Lee had developed with similar intentions to demonstrate his martial arts philosophies through drama, ultimately comes across stronger than the
Game of Death
as assembled... in fact, by quite some distance.
In fairness, it's quite possible, perhaps even likely, that Lee the director would have seen that once the footage was assembled and reworked it in the editing room into something less wonky. The trouble with posthumously assembling a movie from a director's notes and calling it their intention is that, in most cases, that would not be the final step for a director. Seeing the footage assembled according to that intent will nearly always demonstrate ways in which that assemblage fails to achieve all of the goals one had for it.
I'm not sure what my ultimate point is. It's certainly not to disrespect Bruce Lee the man. In fact, I think there's something more disrespectful about exaggerating someone's accomplishments or, at least, taking them outside the proper context in which they actually occurred. And since I think too many people rob the dead of exactly those things, most often in the name of celebrating them.