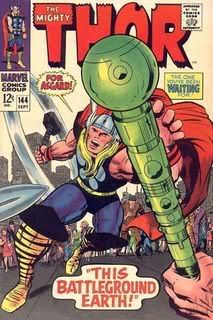 Kenneth Branagh in talks to direct Thor
by Michael Fleming.
I'm not sure how I feel about that. I like Branaugh, but then his history with genre movies isn't so sure.
But then who better than someone with a handle on Shakespeare to take on
Stan Lee
and
Jack Kirby
's interpretation of the Norse
thunder god
?
I notice that
Nick Cassavetes
is no longer credited as director on the
IMDb Captain America page
. I've been hearing
Will Smith
bounced around as star. I'm not sure that works for me... not a
black
Cap, although I'm sure that's getting plenty of play in geek circles...
Obviously
The Tuskegee Airmen
,
Miracle at St. Anna
and
Truth: Red, White & Black
, among many other media tellings of the history, remind us that blacks fought prominently in World War II, so I can work out a version of that in my head.
... but Will Smith seems too modern for me, and a mainstream action movie with him as the star seems likely to try to use his persona to its "advantage", which seems to make it more likely they'll try to update it.
And all I know with that is, that if the first Cap movie doesn't take place in World War II, the director, star, the buzz, the press, none of that will mean shit. I ain't going!