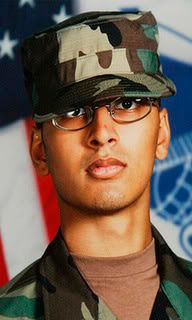 I'm sorry. Really I am. I'd give anything to have things to say about
anything
that wasn't politics.
But then I read something like
Kareem Rashad Sultan Khan
posted by Karen Tumulty, which heavily quotes an article written by Shruti L. Mathur.
And reading that, no matter how much I'd rather write about the TV shows I'm watching or books I'm reading or ideas I have for shitty things I could be or should be writing or how people celebrate Halloween, things I enjoy a million times more than politics at this point in my life... but they just seem to fade away.
Today Colin Powell asked, "Is there something wrong with being a Muslim in this country? The answer is no. That's not America. Is there something wrong with a seven-year-old Muslim-American kid believing he or she could be president? Yet I have heard senior members of my own party drop the suggestion that he is a Muslim and might have an association with terrorists. This is not the way we should be doing it in America."
That man, pictured above, was a year younger than my baby sister. I'm a big brother by a long distance on that one, so I'm probably more amazed by that fact than I ought to be.
Looking at his face, the rabble we've seen so much at the McCain/Palin rallies, who are encouraged by the thinly veiled attacks of both Republian candidates, whose fears and ignorance are stoked by both Republican candidates, who openly and contemptuously speak their hatred and ignorance to open cameras in public places shift from being troubling but expected figures to being evil monsters, ogres who mock and aim to destroy the things that make this country great... or that should make this country great or are supposed to make this country great.
And all through this, John Sidney McCain III sends out subtly encouraging messages to these people, he allows and publically defends the robocalls made by his campaign that are
obviously
intended to subtly - perhaps "subtly" should have been in quotation marks there - encourage the kind of hatred that this man - I have to fight the urge to type "boy" every time - gave his life in part to defend against.
If Senator McCain were seated next to me, I'm sure he would repeat his claim that he has and does repudiate such hateful actions, all in the same dismissive tone he takes every time this comes up. It's a nice trick, if done correctly you appeal to the people who believe these things should be repudiated without having to actually repudiate them.
Half-assed explanations that Sen. Obama is not an "Arab" but a "He's a decent family man and citizen." Of course, this leaves casually open the idea that "Arab" is the opposite of "decent family man and citizen".
Others have, rather kindly, assumed that in the moment he merely didn't speak correctly, but I'm not so sure of that. Leaving that open means those who aren't so sure that Obama isn't an "Arab" will still be inclined to vote against him.
Sen. McCain owes it to America, if he hopes to be our next president, or to be an honorable servant of the nation and statesman, to openly, vigorously and wholly repudiate any and all statements made by people speaking for him, with him, around him or through him that would bring disrespect to American Muslims and Arabic Americans who serve as good citizens and decent family men (and women).
Anything less is as bad as nothing at all, which seems to be what he and his campaign are counting on.