Tonight I went to
Master Pancake Theatre: Friday the 13th
. It was amusing. Admittedly, I did laugh a lot. I especially found myself impressed with their ability to sing alternate songs along with the musical cues in the movie. But maybe I'm too old or maybe I'm just the wrong guy, but somehow making fun of a movie as an end unto itself is less satisfying to me than it seems to be for others.
And I'm definitely not the target for the joke about no one having heard of
Sean Cunningham
. The man directed
Spring Break
, ferchrissake!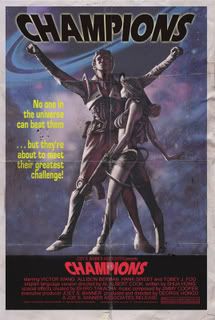 So then coming home, I happen into
Shock and Awesomeness
by Marc Savlov, about Stephen Romano, his book
Shock Festival
and including a note on him appearing at
Austin Books
at the same time I was watching the silliness.
Checking out the
Shock Festival
site only made it clearer how wrong my decision was. I wish I had a copy of the book. I wish I'd gotten a chance to meet this guy.
Oh, well...