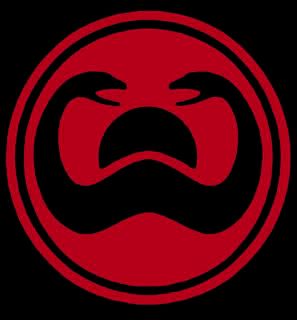 I own this shirt. It can be purchased at
Rotten Cotton
, which I did a couple of years ago.
It is the symbol of the
Cult of Set
, led by
Thulsa Doom
in John Milius's
Conan the Barbarian
.
Perhaps, a
Robert E. Howard
fan, something I should view with greater ambivilance that I do, but certainly the symbol is cool, and would have been a fine symbol to use in a more accurate adaptation, as well. And frankly, I love the Milius movie, despite being a weak adaptation.
In Seattle, though, it never fails, people confuse that symbol with this one:
Well, no.
Frankly, I'm the wrong age for
Thundercats
, although I remember it being one of the better crappy '80s cartoons, and I'd watch it today if I flipped past it, but I wouldn't buy the dang t-shirt.
Here in Texas, however, everyone gets it right. Regardless of age or geekiness level, whatever... Ok, so far no women have given it a shot, which says something still, I suppose.
The only person to guess wrong guessed
Conan the Destroyer
.
I'd like to wish it was because Howard is a native son, who lived his teen and adult years in
Cross Plains
- where they hold an annual
Barbarian Festival
in the summer that I'd like to find my way to next year, assuming I'm still around, but they don't seem to have a
Greyhound
stop... I've been on buses that took some crazier stops than that over the years, so I'll do more research when the time comes closer.
Sadly for my hometown folks, I'm skeptical its literally that, especially since, as I overstated, the symbol
is
from the Milius movie, and I'm not convinced either that people, even here, actually know nearly enough about Howard. I think it's something deeper... and something Seattle has some serious catching up to do on, dammit!