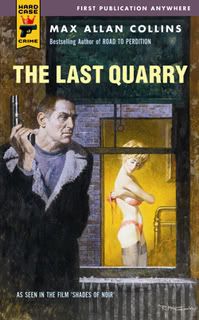 I thought it was clever to wait to comment on
The Last Quarry
until I'd read
The First Quarry
. Suffice it to say, I now just wish I remembered "The Last Quarry" better. I see that it's been made into
The Last Lullaby
, which looks terribly cool, and the pictures did remind me of some elements.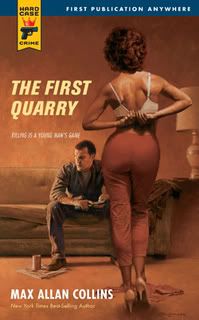 The key to both books is their readability. They're light, fun, easy reads. "The First Quarry", which I just read, sticks in my head as more self-consciously humorous than the other book. I certainly smiled, chuckled and even laughed out loud quite a bit while reading. Yes, the lead character is a hit man, but he's not a hard guy to spend time with, at least
imaginary
time. I have a feeling
Max Allan Collins
enjoys his imaginary time with him, too.
Reading these, and other of the
Hard Case Crime
books, makes me happy. There's just something about books being published that are intended to get some good "guy" fun means we aren't quite to the point of being a post-literate society, even if just a few of us out there who have to kind of play make believe.
I'm also glad there are places for Collins to write this kind of material, since I enjoy the way he spins a yarn quite a bit, but I don't much feel like picking up
CSI
or
Bones
novels, not that I'm complaining about those at
all
.