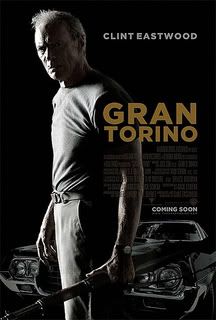 I unapologetically
love
Gran Torino
.
I've heard the complaints and frankly, every one I've heard is bullcrap.
Clint Eastwood is playing 80-year-old
Harry Callahan
? Bullcrap! I'd see that movie, too, but this isn't it! If you're spouting this bullcrap, you need to go back and watch
Dirty Harry
again. Trust me!
(And, yes, the
trailer
is designed to sell 80-year-old Dirty Harry wants the punks to get off his lawn. I won't argue that.)
Sure, he's a hard guy with a voice like a whisper, but it's Clint Eastwood. You might as well say he's playing Blondie from
The Good, the Bad and the Ugly
as a 20th Century man.
Bullcrap!
Walt Kowalski, Eastwood's character makes too easy a transition from racist to befriending the Hmong family next door to him? Bullcrap! Did you fall asleep through part of it? His racism was all on the surface to begin with. If there was a problem for me it was that the surface nature of his racism was underlined too many times. Apparently not for some portion of the world. You know, the dumbass bullcrap spouting portion.
But then the casual racism takes up too much of the review space anyway, considering that it completely misses the point. It's not a story about racism.
At all.
Yes, it's a story about a man who says racist things, and holds some racist beliefs.
It's also a movie about a guy who one should suspect stands about six-foot-two.
That's not the point either. The only difference is, Eastwood's
height
hasn't distracted people from understanding the point of the movie.
Yes, the
point
. Mind you, Eastwood the filmmaker is a disciple of old school moviemakers like
Don Siegel
and knows that the first job is to spin a good yarn, which
Gran Torino
does with ease.
The point is that American society is a bunch of spoiled rotten pussies and we need to man up.
No, really, it is.
It's a movie by a grumpy 80-year-old man about a grumpy 80-year-old man, giving America his grumpy 80-year-old man grumps.
Yes, it is more complicated than that. Kowalski has to make some changes, too, it's about a journey.
Imagine I tell you that
Star Wars
is about Han Solo's personal journey - It is. - and someone says, "No, he totally just decides to go with them right there in the cantina!"
Um, yeah.
Kowalski's befriending the family is the cantina scene, just without the groovy jazz score.