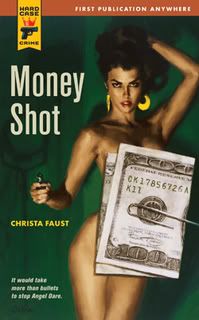 I've been meaning to read
Money Shot
by
Christa Faust
for too long to have any good excuses.
Now
you
don't either, because it's a lot of fun.
The story is about a porn star named Angel Dare who finds herself caught in a web of murder, sex slavery and everything else that makes hard boiled fiction so wonderful.
The book is a quick, gripping read. The twists and turns are intriguing. But mostly its the reality of the characters that makes it work. Yes, they all easily fit within the framework of one noir archetype or other, but Faust makes them breathe comfortably in their own unique skin beneath that.
Plus, it's really funny and fun.
Now, stop with the excuses, get to reading. Dang!