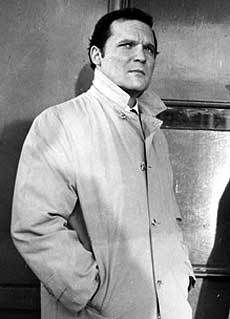 Before I say anything else about
Weird Wednesday: Chained Heat w/ Sybil Danning!
, allow me to take on moment to note that
John Vernon
is totally awesome!
I'm sure you know that, but it's always worth repeating.
It was cool to meet
Sybil Danning
. She was very charming and funny. I liked her a lot. I do have to say, however, that in my mind she's eight-feet tall, and she's actually five-foot-four in heels. That was rather striking.
Chained Heat
? Same as it ever was. It's a movie that knows what it is. It's fun and trashy and doesn't leave a bad taste in my mouth, most especially because of actors like Vernon, Danning and
Stella Stevens
, who seem to be having a really good time.
Linda Blair
does not seem so, and while that is the part, Danning did seem to confirm that she didn't think she wanted to be there. Interesting, as her interview on the new
Savage Streets
DVD, which she made next (and also features a scene chewing performance by Vernon), shows her reasonably enthusiastic for a movie of pretty equal trash value... although one I personally prefer.
I can't say anything specific stands out, from her talk. She was starstruck meeting Richard Burton and Charlton Heston. That was amusing. Here's the Q&A she did after
Howling II
the previous night.